Ed Ernst Electric is a Master Certified Electrician who is fully Licensed and Insured.
We provide services for residential, as well as agricultural and commercial industries.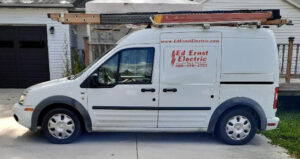 Ed Ernst Electric
Ed has over 30 years of electrical experience serving the Southern Wisconsin region including Green County, Lafayette County, and Dane County. Whether you live in Monroe, New Glarus, Monticello, Brodhead, Gratiot, Wiota, South Wayne,  Argyle, or in the rural country we are here to serve you!
From electrical panels and electrical services to simple light fixtures, we can provide you with prompt, quality work. We work with you to complete your electrical project in a timely manner whether we are providing full electrical services, working as a sub-contractor, or providing expertise to those wanting more of the DIY (Do-It-Yourself) experience. With our low overhead, we can help you stay on budget!
Ed Ernst Electric is proud to provide prompt, friendly service to all of our wonderful clients in communities including Monroe, New Glarus, Monticello, Brodhead, Gratiot, Wiota, South Wayne, Argyle, and many others!

No job too small!
+ New or replacement services
+ Electrical service installation and upgrades
+ Remodeling and new construction
+ Grounding, surge (GFCI) and lightning protection
+ Room, accent, outdoor and business sign lighting
+ Swimming pools, hot tubs and spas
+ Gas and electric water heater servicing
+ Livestock fountain repair
+ On location motor repair
We have built a reputation for quality craftsmanship in the troubleshooting, repair and renovation of residential and commercial electrical wiring.
Don't believe us, read a testimonial from a real customer >>
To keep your home safe from electrical hazards,
only deal with licensed, insured electricians for all your electrical work.